New year, new job, and now an all-new battlestation setup! You might know that I have an obsession with ergonomics and productivity boosting, and now that I've finally moved out of college dorm rooms, I went all out and painstakingly customized my work station to fulfill all my needs.
What's even better, I did it on a low budget without any compromises. I really hit the sweet spot of cost effectiveness — either buying top-of-the-line when it was worth it, or getting better value from mid-tier products. The total came out to just under $2k and has absolutely everything you might want for maximum comfort during long hacking sessions.
In this post, I'll break down the process of constructing my battlestation by discussing each component and giving tips on how to find the right equipment for yourself.
Breakdown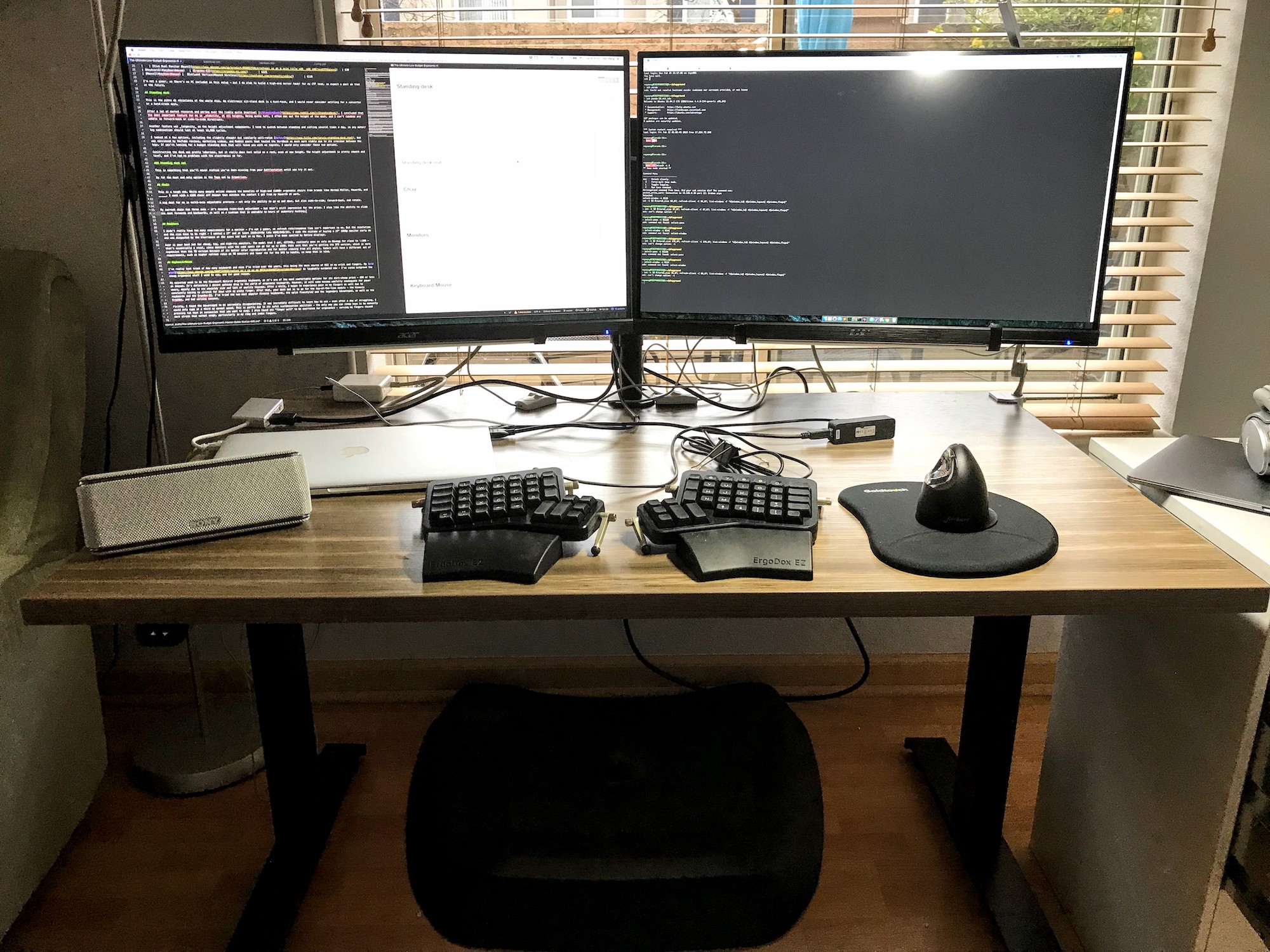 Here's a breakdown of my setup by section, product, and price.1
Standing desk
This is the pièce de résistance. An electronically adjustable sit-stand desk is a must-have, so you shouldn't even consider settling for a converter or a hand-crank desk.
After a lot of market research and poring over the (sadly quite inactive) r/StandingDesk, I concluded that the most important feature for me is stability at all heights. Being quite tall, I often max out the height of the desk, and I can't condone any wobble in the forward-back or side-to-side directions.
Another feature was longevity on the height adjustment components. I tend to switch between standing and sitting several times a day, so any motor should last at least 10,000 cycles.
I looked at a few options, including the slightly cheaper but similarly well-rated Jarvis, but was convinced by YouTube reviews, marketing videos, and Reddit posts that touted the VertDesk as much more stable due to its crossbar between the legs. If you're looking for a budget standing desk that will leave you with no regrets, I would only consider those two options.
Constructing the desk was pretty laborious, but it really does feel solid as a rock, even at max height. The height adjustment is pretty smooth and level, and I've had no problems with the electronics so far.
Standing desk mat
This is something that you'll never realize you've been missing from your standing desk setup until you try it out.
By far the best option is the Topo mat by Ergodriven. The contours around the edges naturally invite you to shift your position, reducing strain from a single stance and distributing weight all around your foot for maximum comfort. The little mound in the middle is also insanely fun to step on and massage your soles.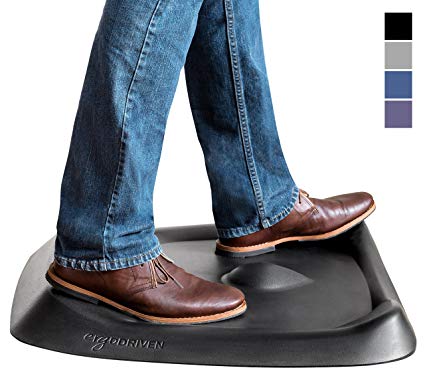 Chair
This is a tough one. While many people online swear by the high-end $1000+ ergonomic chairs from brands like Herman Miller and Haworth, I went with a $200 chair off Amazon by an unknown brand that is often more comfortable than the Haworth Zody chair I use at work.
A big deal for me is multi-axis adjustable armrests — not only the ability to go up and down, but also side-to-side, forward-back, and rotate. I like being able to rest my elbows in a variety of positions, though I've often found that it's more comfortable to float your wrists and elbows while typing.
My current chair has three axes — it's missing front-back adjustment — but that's still impressive for the price. I also like the back stability, ability to slide the seat forwards and backwards, and the cushion that is amenable to hours of sedentary hacking.
Monitors
I didn't really have too many requirements for a monitor — I'm not a gamer, so refresh rate/response time isn't important to me. But the resolution and the size have to be right — I wanted a 27" and at least 2560x1440p (aka WQHD/QHD/2K). I made the mistake of buying a 27" 1080p monitor early on and was disgusted by the blurriness of the icons and text on my Mac. I guess I've been spoiled by Retina displays.
Acer is your best bet for cheap, large, high-res monitors. The model that I got, K272HUL, routinely goes on sale on Newegg for close to $200 — that's essentially a steal, since monitors with the same specs can go for up to $500. Make sure that you're getting the IPS version, which is more expensive than the TN version because of its better color reproduction and far better viewing from all angles. Gamers will have a different set of requirements, such as higher refresh rates on TN monitors and lower res for higher FPS, so keep that in mind.
Keyboard
I've really lost track of how many keyboards and mice I've tried over the years, this being the main source of RSI in my wrist and fingers. My old post is laughably outdated now — I've since outgrown the cheap ergonomic stuff I used to use, and for good reason.
My mainstay used to be the Microsoft Natural ergonomic keyboard, as it's one of the most comfortable options for its dirt-cheap price — $50 or less on Amazon. It's definitely a decent gateway drug to the world of ergonomic keyboards. However, it will soon become woefully inadequate for power users, mainly due to its unwieldy size and lack of quality keycaps. After a while, I began to experience pain in my fingers as well due to constantly having to stretch for keys with my pinky finger. After that, your best bet is to go for the top-of-the-line models — the Kinesis keyboards and the Ergodox-EZ. I've tried the two most popular Kinesis keyboards, the split Freestyle2 and the legendary Advantage2, as well as the Ergodox, and had varying success.
Firstly, I found the Advantage2 to be incredibly disappointing. It was incredibly difficult to learn how to use — even after a day of struggling, I could only type at a third my normal speed. This is partly due to its awful customization abilities — the only way you can remap keys is by manually swapping two keys at a time using a special key sequence. I also found its "finger well" to be overrated for ergonomics — curving my fingers caused more strain than normal usage, particularly in my ring and index fingers.
The Freestyle2 fared much better, by comparison. Its familiar layout meant that I could type at my maximum of 100+ words per minute in no time, and being able to incline the two halves of the keyboard up to 15 degrees did wonders for my comfort. I did notice several downsides: you still need to stretch with your pinkies to reach a lot of the modifier keys on both the left and right side, and the dome keycaps were not very comfortable compared to the Cherry Brown mechanical switches on the Advantage2.
Finally, that leads us to the latest and greatest in customizable ergonomic keyboards — the Ergodox-EZ. The best thing is the online graphical configurator for the keys. I was able to remap many pinky keys (ex. Enter, Backspace, Space, Arrows) to easily accessible thumb positions, while I restored other keys to familiar locations so that the learning curve was very fast. I've been using it for several months now with absolutely no pain, and I was typing at 90% of my maximum speed within two weeks.
As of the time of this post, I actually ordered another Ergodox for work because I love it so much. My Kinesis keyboards will be relegated to the junk heap for the foreseaable future.
Mouse
I've also tried many sub-$25 ergonomic mice, before being given the opportunity to try the Evoluent VerticalMouse.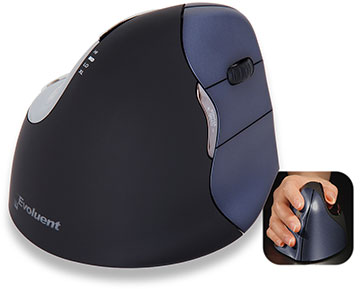 It's the most comfortable mouse I've tried, largely due to its ample size and five programmable buttons that I've aliased to common tasks, such as page up/down, which would otherwise cause a lot of middle finger strain via the scroll wheel. However, it has a ways to improve: the bluetooth model is notoriously glitchy, with my pointer occasionally jumping across the screen for no reason, and it could use more palm support in the form of a wider base rest. That being said, it's the best (and priciest) option in a field of mediocre ergo mice.
Accessories
You might appreciate some of these accessories to round out your workstation:
17" x 5" Wire Cable Tray — wide enough for a thick 12-outlet power strip and installable on both sides of the desk.
Adjustable Clamp Lamp — clamped to the back, this light can swing across your entire desk, adjusts in 4D, and doesn't take up any valuable desk space or obstruct your view of your monitors.
Under-monitor light bar — I've often been complimented on these little guys, which can stick under the monitor and add a bit of extra light, as well as an aesthetic touch.
Dual-monitor mount — I don't ask too much of my monitor mounts - they just need to be sturdy, since I rarely want to adjust them. You could splurge on two hydraulic arms instead of this fixed mount, which would give you maximum maneuverability.
---
Hopefully, this guide has helped your own quest for ergonomic excellence. If I'm missing anything or you would like more recommendations, please get in touch.
---
1.

I'm not a gamer, so there's no PC included in this setup — but I do plan to build a high-end server tower for my CTF team, so expect a post on that in the future.

↩